Content Inventory, Sitemap and Wireframe development, Test Set-Up, Presentation Slide Deck & Delivery, Final Project Document.
Optimal Sort (card sorting, treejack testing, chalkmark testing), Trello, Stormboard.
The Dekalb Farmers Market has been an Atlanta-area institution since the 1970s.  The 140,000 sq ft complex in Decatur, Georgia, is home to a diverse selection of produce, meat, and other food. Visitors to the market will find durian fruit, shark fins, and apple pie for purchase. The scale of the market combined with the variety of products leaves visitors lost and confused. Our objective was to create an application whose information will be accessible to the user in real time as they navigate the market. We performed a series of tests on the current website.
After gaining a thorough understanding of the site, we determined the optimal structure for our new application.  We will verified our findings using information architecture testing methods and usability testing and created a suggested information architecture and accompanying wireframes and a sitemap.

​​​​​​​
The annotated sitemap and wireframes were finalized after several rounds of testing (see below). Each level of testing informed us of the norms of semantics and expectations individuals had. 
During our pilot card sort, we realized that users were not able to clearly delineate food products and on-site food eateries (coffee shop and restaurant). This guided us to create a category for eateries.
Our team sort helped us see that we needed combine some areas as well as delineate some areas. Our second and third card sorts helped us finalize our main navigation items: About, Departments, and Eateries. However our information architecture testing results indicated that testers did not understand the site layout, particularly concerning the B2B section. 
Our testing helped us see that the B2B section needed to be distinguished as typical users do not know where it should be classified, and we speculated it would be difficult for business owners to find as well.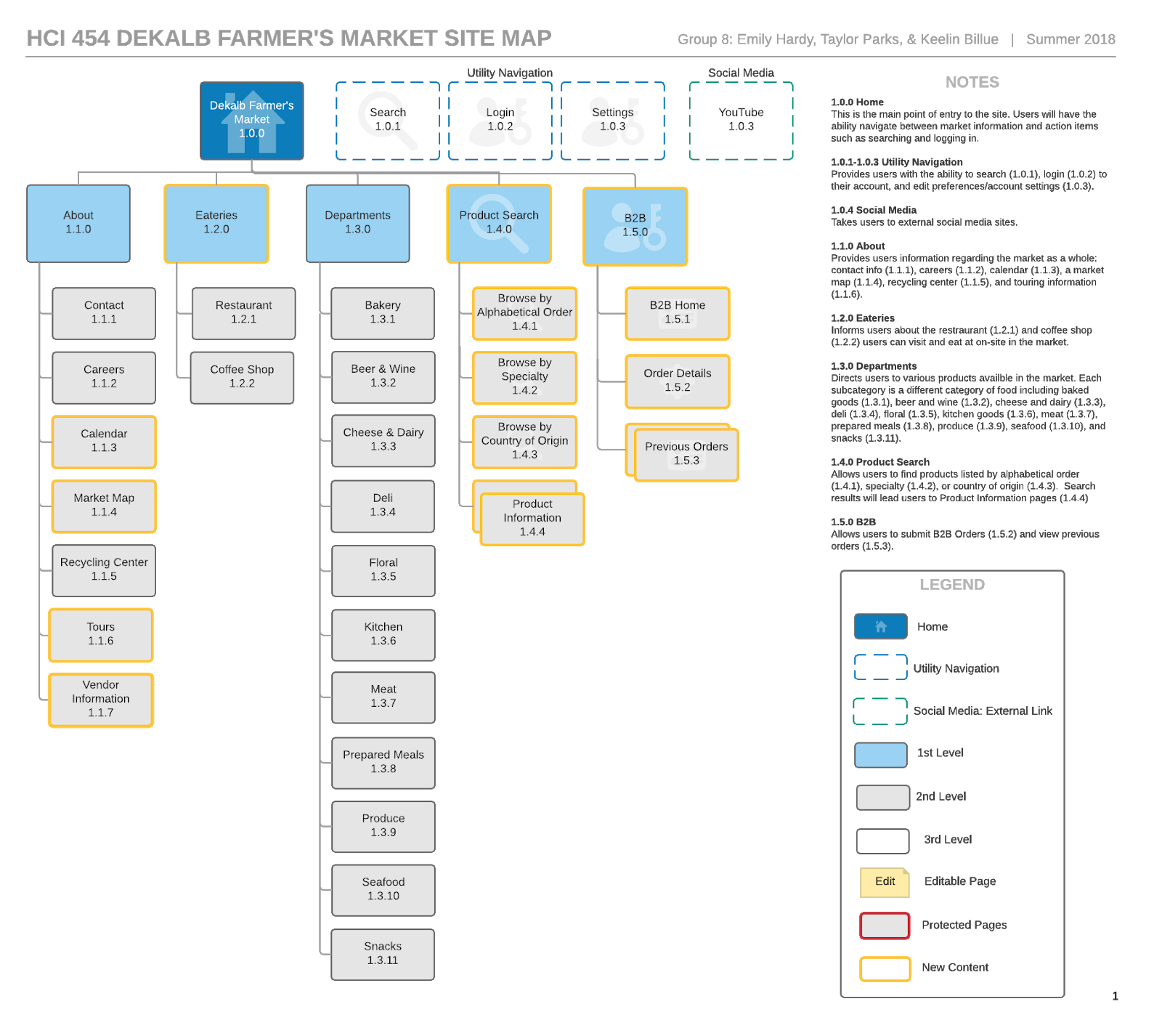 The two tasks that we chose to wireframe were "Finding a Product" and "Creating a B2B Order" (see below). We chose Finding a Product because it was a completely original concept (no such functionality exists in the current site) that we felt would be beneficial to all three user types.  It was also the impetus and strongest case for the mobile app format.  We chose Creating a B2B Order as it felt like one of the most complicated processes in terms of number of steps and thus more difficult to get right.

With Finding a Product, one of the greatest challenges was designing for a feature that did not appear as an item in the main nav bar and also didn't exist beneath any main nav items.  Because of this, we debated how best to display the information and not confuse the user about where they were within the app.  Unlike other site items, we could not highlight any of the icons in the nav bar as Product Search didn't belong under any of these major headers.  We discussed having all Product Search actions in a modal over the home screen, but ultimately that felt like a temporary and insubstantial backdrop for a multi-step process.  It would also limit screen space unnecessarily when that space would be at a premium for things like longer search result dropdowns and product information screens.  We settled on the current design, a panel that slides up with no bottom nav but still allows users to return to the Home screen at any time.

For Creating a B2B Order, the main challenges were having a nav option that would only be accessible to some users and creating a process that made room for both new and previous orders.  We were inspired by the online ordering of a few restaurant apps which normally a) display a history of previous orders alongside the option for a new order and b) allow users to customize their reorder before checking out in case the user needs a close-but-not-identical order.  We also decided to have a popup for users who clicked on B2B alerting them that their account was not linked to any business and giving them the option to change their account settings if so desired.

We tested these wireframes using Chalkmark on users who fell in the "home chef" or "market tourist" user type categories.  Although we do not have any restaurant buyers in our network, in future testing we would like to specifically target these users for testing the B2B Ordering task.